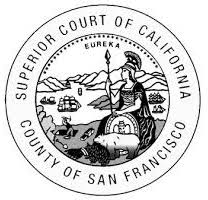 San Francisco Superior Court
Courtesy Copy rules & updates
Rule 2.11 requires that two courtesy copies be delivered to the Court. When those courtesy copies are not provided, the court incurs additional expenses following up with attorneys to provide the required copies. This is particularly concerning for time sensitive documents, such as the list provided below, as the Court does not want to delay processing of these documents.
[Document list]
As the rule requires, it is a firm's responsibility to provide courtesy copies. The File & ServeXpress eFiling application provides a convenient courtesy copy delivery option, while firms have always been responsible for providing courtesy copies in any way that they choose, that did not change with the institution of electronic filing.
frequently asked questions
AVAILABLE Training sessions
Effective January 4, 2021, case initiating filings will be mandatory in twenty-one General Civil case types and one Family Law case type. Additionally, electronic filing will be mandatory in Family Law Dissolution cases.
Request a training session by contacting support@fileandserve.com.