WELCOME TO THE FSX PAYMENT PORTAL!
New for File & ServeXpress users: Based on your feedback, we've made it easier than ever to access and pay your invoice. Now, you can view your paid and unpaid invoices for the past 90 days within the File & Serve application. Simply click on the "Pay My Invoice" link at the top of the screen.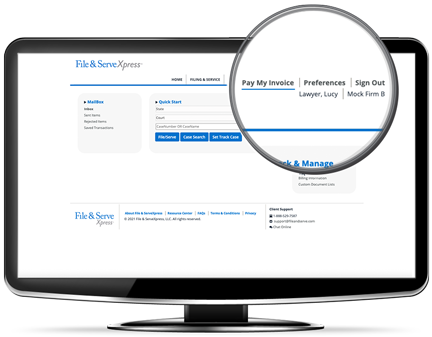 We are pleased to offer our clients the option to pay their invoices online via credit card or with a checking/savings account. 
To get started you will need your Account ID, Invoice number and Firm name as they are required fields.  You may locate those details on your invoice.  The FSX Payment Portal Guide will help you find it on your invoice.
The site is very user friendly. You will be able to edit your information throughout the transaction as well as the total amount to be charged. Once you have completed your transaction, a receipt will be provided that you may print for your records. The email address provided under the Customer Information will receive the same receipt. It is important to note: all transaction/service fees are non-refundable. 
When you use the service the following transaction/service fees will be assessed:  $1.00 per transaction plus 2.6% of the total to be paid will be charged when using a credit/debit card.  If the checking/savings account option is chosen, only the $1.00 transaction fee will be assessed. 
Thank you for being a valued client! We appreciate your business. 
Ready to pay your invoice online?
Have a Question? Contact our Client Support at (888) 529-7587