File & Serve Maryland offers easier, faster eFiling in all courts on the MDEC system.
Enter your details below to learn more about how File & Serve Maryland can work for you, and how you can eFile faster today.
eFiling Built Strategically for You
File & Serve Maryland is a customized eFiling application for the statewide electronic filing manager, MDEC Odyssey. Developed by File & ServeXpress, the same company providing eFiling and eService in Maryland since 2002, FSMD can be used for eFiling and eService in all Maryland available courts that have gone live on the Odyssey system.
Log in
You can log in with an existing MDEC Odyssey account or create one through FSMD. Fill out the intake form and have your login credentials sent to your inbox.
Learn
Explore the resources below, including: user guides, feature overviews, videos, and live webinar sessions hosted by your local account manager.

MULTI-FILE DRAG & DROP UPLOADS
Load up to 200 documents at a time with one simple motion

BATCH FILING
Bundle large volumes of filings to be sent to a specific court in one easy step. 

AUTOMATIC FILE NAMING
File descriptions are now pulled from the uploaded file

SERVICE REPORTS PER ENVELOPE
Access per-transaction service reports on demand

ANYTIME SERVICE LIST UPDATES
Update service recipients at any time, not just during filings

PERFORMANCE IMPROVEMENTS
User interface upgrades to make eFiling easier and faster

BUNDLED VALUE
Complimentary eService when eFiling with File & Serve Maryland

MONTHLY BILLING
Reconcile easily with transactions grouped by client and case

PDF CONVERSION
Uploaded files are automatically virus-scanned and converted to PDF

24/7 LIVE SUPPORT
Around the clock access to legal and tech experts via phone, chat, or email

PERMANENT DOCUMENT STORAGE
Searchable storage of all filed or served documents

AZURE SECURITY
Trusted Microsoft Azure cloud hosting provides unparalleled security
See what Filers are saying about FSMD's time-saving features
"The best feature is dragging all the documents that need to be filed at one time, it saves so much time."
"The user friendly attributes made quick work of filing and serving all case documents."
"Love the ease with which to upload multiple documents at one time. It is much more efficient."
Click below to select and register for one of our upcoming live webinar sessions.
FSX is dedicated to providing you with the tools and resources that you need to use our products efficiently and effectively. Our team of seasoned training professionals not only know our products, but have years of experience working with local filers, law firms, and court systems.
If you have any additional questions or need technical support, please contact File & ServeXpress Client Support by phone at 1.888.529.7587 or by email via support@fileandserve.com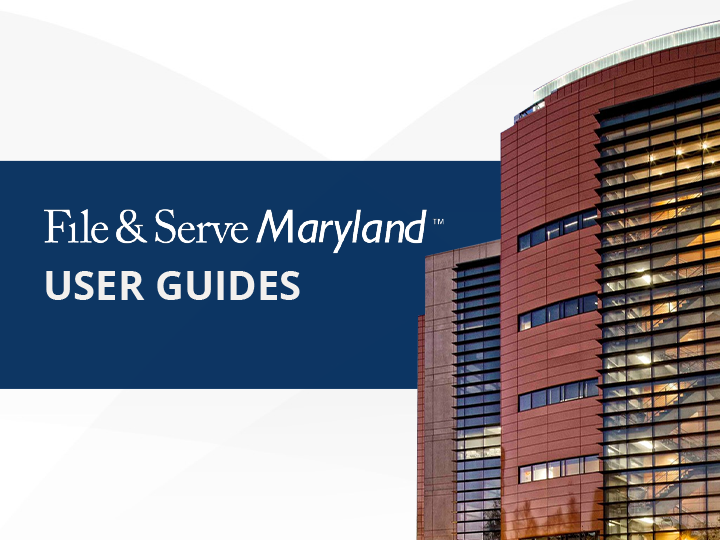 FREQUENTLY ASKED QUESTIONS
File & Serve Maryland serves all civil, family, criminal, and traffic filings in the District Court and Circuit Courts, as well as appellate filings in the Court of Special Appeals and Courts of Appeals on the MDEC system.
Courts by District
Landlord/Tennant in Prince George's County
Asbestos in Baltimore County
Courts by District
1st District: Baltimore City*

2nd District: Dorchester, Somsert, Wicomico, Worcester

3rd District: Caroline, Cecil, Kent, Queen Anne's, Talbot

4th District: Calvert, Charles, St. Mary's

5th District: Prince George's County*

6th District: Montgomery

7th District: Anne Arundel

8th District: Baltimore

9th District: Harford

10th District: Carroll, Howard

11th District: Frederick, Washington

12th District: Allegany, Garrett
Landlord/Tennant in Prince George's County
Asbestos in Baltimore County
Log in to File & Serve Maryland.
We're happy to help! Contact us below.