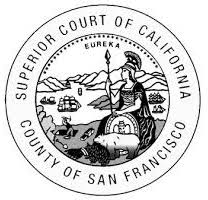 San Francisco Superior Court
Effective January 4, 2021, San Francisco Superior Court has added Family Law Dissolution cases to its list of mandatory eFiling and eService cases. It has also mandated electronic filing for original filings (Complaints and Petitions) in 21 General Civil case types, as well the Dissolution case type. This service is only available through File & ServeXpress, as of January 4.
We have training and customer support available for this electronic filing expansion project, should you need. On this page you can access printable training guides, video training services, or you can register for scheduled webinar training sessions. File & ServeXpress has been providing electronic filing and service in San Francisco Superior Court cases since 1998.
Civil & Probate Expansion
Effective July 1, 2021, The San Francisco Superior Court will mandate additional Civil and Probate case types for new case filings, including asbestos cases. File & ServeXpress will support new case filing for all mandatory case types.
Click here to view the Court's recent press release.
We are pleased to announce that San Francisco Superior Court has expanded its eFiling program with File & ServeXpress to include a pilot program for certain motion filings in Criminal cases. This new service became effective March 15, 2021 and is now live.
frequently asked questions
Upcoming Training sessions
Effective January 4, 2021, case initiating filings will be mandatory in twenty-one General Civil case types and one Family Law case type. Additionally, electronic filing will be mandatory in Family Law Dissolution cases.
Request a training session by contacting support@fileandserve.com.