There are many reasons someone may want to follow the activity in a case. Obviously, the plaintiff's and defendant's council will want to know of any transaction so they can promptly react and inform their clients. Attorneys, Paralegals, and other legal professionals may also want to track notable cases that impact their service or follow cases to scout for potential clients.  
But legal professionals are not the only people that need to know about court or case activity. Journalists, media members, and others may want to know when items are filed in high-profile cases, as what happens in the local courtroom can have a broader impact on the community.  
No matter your reason for interest, the easiest way to stay informed on case activity is by setting up an Alert through File & ServeXpress. Alerts allow you to receive transaction details in your inbox instead of relying on broader coverage and manual research. Here, we will review how to set up Alerts in-app and their best use cases for different types of users. 
Creating a New Case Alert Step by Step
If you still need to register with File & ServeXpress, you can register here.  
Once you register, go to the Alerts page in-app, and select the "Create New Alert" button: 

This will lead you to the Alert creation form, starting with the "Alert Setup." Here, you create the Alert name, add a billing reference, and can toggle the Alert off temporarily. Beyond that, we have added two features to make Alerts easier to use: 
Setup email notifications

: Alerts don't help if you can't see them, and it's unlikely you will spend every hour of the day in the File & Serve application. This option will forward the Alert to your inbox.

 
Share the Alert

: If you work with other people, chances are they need to stay informed on the case as well. You can share the Alert with other members of your firm by selecting their account in the "Select Party" list. This way, you don't need to be the sole source of information for any particular case for your entire firm; everyone can stay in the know.

 
These simple features make a big difference in Alert usability and are simple to activate. A simple toggle and a party list are all that's necessary: 

Next up is the "Case Information" section. Here you can select one or multiple cases to track with the Alert:

Next, press the "Find" button next to the "Case" field to select your case. This will pull up a pop-up menu where you can find cases through a text search. Select the court and type in any party name you remember or the case number:  

Once you make a selection, the "Case Information" menu will update with the necessary information filled out: 

Next is the "Document Information" section, where you can narrow down which documents trigger Alerts. Specifically, you can choose document types to track (i.e., types of motions, orders, stipulations, etc.) or write in a full/partial document title. Of course, if you want Alerts for every document in the case, you can leave the section untouched. 

Finally, there is the "Party Information" section. Here you can filter further by Attorney, Judge, Served Party, and more. But remember, the more filters you add, the fewer Alerts will trigger. Be careful not to use too many and risk missing meaningful transactions.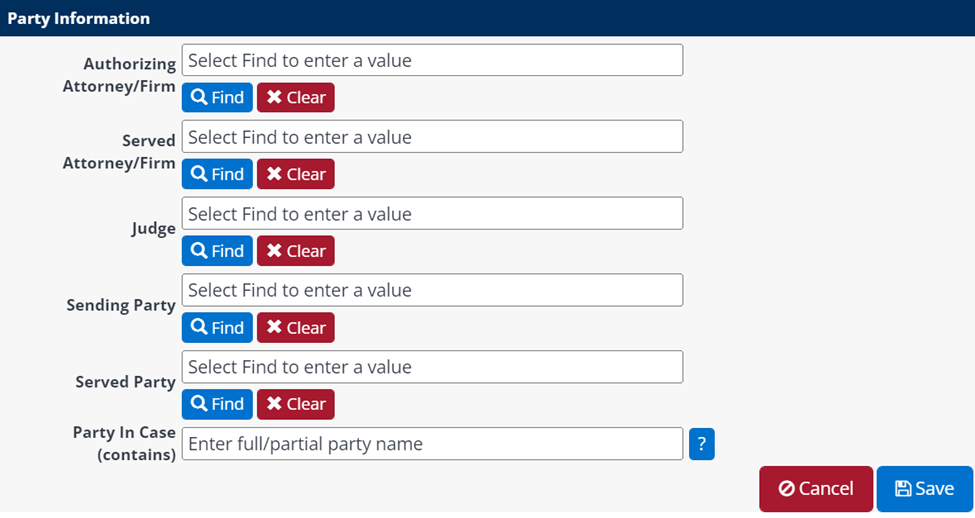 Once you've selected all the options you want, click the save button, and the Alert is active. 
What's the Difference Between a Notification and an Alert
If you have used File & Serve before, you may be familiar with Notifications. Notifications are designed to inform those directly involved with a transaction about its status and other important events. Some examples include:  
Service Notification emails

 

Message Board post Notifications

 

Submission Notifications

 
Clerk status of a filing (acceptance or rejection)

 
Some notification types have parameters you can modify (ex: daily vs. transactional eService notifications). But for the most part, consider Notifications inflexible notices programmatically sent to those directly involved after a transaction.  
In comparison, Alerts are much more flexible. Alerts can be further expanded or filtered than Notifications and can be used for transactions that don't directly involve you. For example, you can create an Alert for every case involving a specific judge. Or you can make an Alert for a case handled by your firm, but only triggering for transactions with certain document types.   
| | | |
| --- | --- | --- |
|   | Notifications  | Alerts  |
| Cases Available  | Your firm's cases  | Any public case  |
| Pricing  | Included with transaction  | Cost per active Alert  |
| Sharable Within Organization  | Yes  | Yes  |
| Filtering Options  | Select Notifications have limited configuration options   | Filterable by courts, cases, document type, party, etc.  |
| Outputs  | In-app inbox, email  | In-app inbox, email  |
| Target Users  | Attorneys and Staff  | Attorneys and staff, media members, citizens  |
When Should I Consider Using Alerts?
Alerts are designed for usage by legal professionals, media members, and others. So let's run through some example use cases for Alerts among different professions. 
Alerts are useful for legal professionals in these general scenarios:  
When notifications are too broad

. If you need to follow a case in your firm but don't need to receive details on every transaction, the filter options available for Alerts ensure you only see what you need in your most important cases.

 
To follow high-profile cases

. If a case may have a precedent setting impact, Alerts can help you get cutting-edge information before it becomes a headline. 

 

To follow a case category for prospective business

. You can set Alerts for specific case categories. This type of Alert can help you understand area trends and find new business.

 
Alerts are helpful for media members in these general scenarios:  
To follow high-profile cases

. If you're responsible for writing the headlines, Alerts will let you know whenever someone takes action in the case. 

 

Scout for specific case types in specific courts

. Know what you need from local courts without having to manually research yourself. 

 
These are just a few examples of how people use Alerts through File & ServeXpress. With all the filter options and courts available through File & ServeXpress, there are many other ways to fit Alerts to your needs.  
Where Can I Create Alerts?
Alerts are available for any court connected on File & ServeXpress for Attorneys and other legal professionals. Additionally, some courts are open for Public Access, including:   
Delaware Court of Chancery, Delaware Supreme Courts, Delaware Superior Courts

 

San Francisco Superior Court

 
Supreme Court of Appeals of West Virginia

 

Wyoming Chancery Court

 
If you would like to learn more about where File & ServeXpress offers services, you can browse our Knowledge Hub or get in contact with our eFiling experts using the link below.