Previously, we have gone over some actions to take before getting started with eFiling in Wyoming. But even if you are comfortable with filing and service, some elements of the File & ServeXpress application benefit established users who have started eFiling already.   
Here, we will review four actions you should consider during and after eFiling with File & ServeXpress to get the most utility and value with the application.  
Collaborate on Filing Drafts Within Your Firm
Let's say you're done with a filing, but it's not completed. Maybe you don't have access to the final version of a document, or you're unsure of every party that needs to be eServed. You're in a spot where you've done as much of the filing as possible but need someone else to push it across the finish line.   
This kind of scenario is where filing drafts come in handy. Any person within your firm with an eFiling account can access the incomplete filing and start it where you left off. You can find these drafts on the "Saved Transactions" page under the "Filing & Service" menu: 
Saved Transactions are a great way to share the workload across the firm or allow yourself to finish a filing at your own pace.
Let File & Serve Store Documents for You
Document management is challenging to navigate for many legal professionals. Document volume is high in this industry, required document retention times are extensive, and security can be difficult to uphold.
File & ServeXpress can take some of this burden off you. Any document uploaded to the system is stored permanently on our Azure cloud, such as documents filed with the court or served through our application. There is even a dedicated "Document Upload" function that allows users to add documents to a case outside of specific transactions.
Anyone within the firm can access documents uploaded in-app, anywhere they have the internet (another great reason to ensure everyone has an account). They are easy to find through Case View or our search tools. 
If document management is something your firm needs help with, make sure you are taking full advantage of our document repository. There's no additional cost for it outside of the initial transaction (i.e., filing fees), so consider it a free addon to something you already use.
Learn How to Find Your Cases and Related Documents Effectively
File & ServeXpress has multiple ways for you to find your cases and related documents through the application:
Case View: This page shows your firm's cases, organized by attorney. It also includes a text search that is great for quickly finding cases by partial names. You can start a transaction from this page directly into current cases or even create a new case entirely.
Filing Menu: If you are looking for a case to file into, you can find the case using the case name or number on the first step.
If you need to perform more granular searches, like finding a specific transaction, you can use the advanced search module: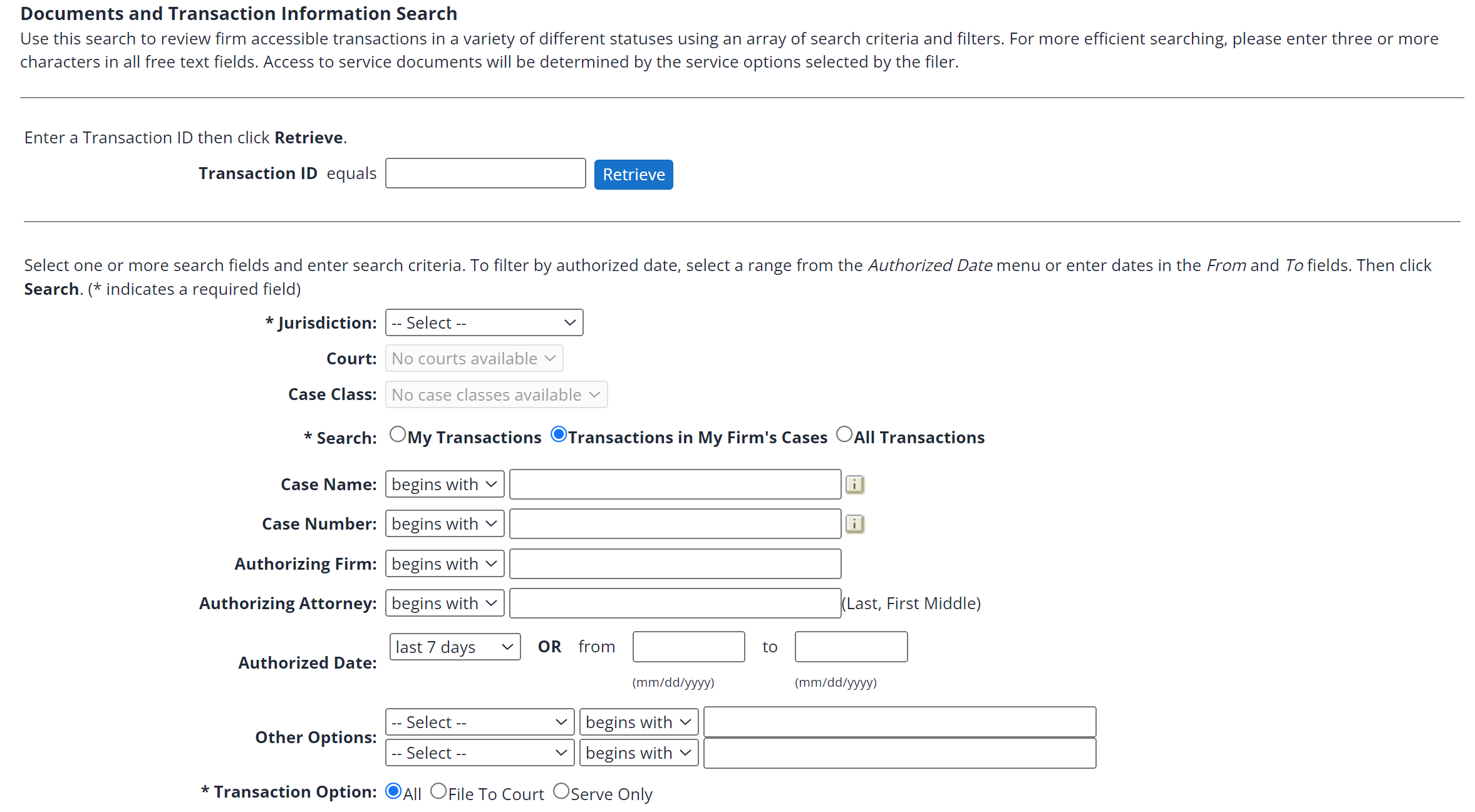 You don't necessarily need to know the case number or name to perform this search and can instead use other data such as the attorney, firm, date, and more.
If you work on a lot of cases or decide to incorporate File & ServeXpress into your overall storage plan, it is a good idea to get familiar with all the above search options. They all work best under different circumstances and have a place in the overall application workflow.
Learn How to Create Case Alerts to Supplement Notifications
| | | |
| --- | --- | --- |
| | Notifications | Alerts |
| Cases Available | Your firm's cases | Any public case |
| Pricing | Included with transaction | Cost per active Alert |
| Sharable Within Organization | Yes | Yes |
| Filtering Options | Select Notifications have limited configuration options | Filterable by courts, cases, document type, party, etc. |
| Outputs | In-app inbox, email | In-app inbox, email |
| Target Users | Attorneys and Staff | Attorneys and staff, media members, citizens |
In addition to standard Notifications, File & ServeXpress offers Case Alerts. Case Alerts are more flexible than the standard notifications, as alerts are case-specific and can be further narrowed by document or party data. This is particularly useful if you want to follow a few specific cases covered by another attorney at the firm, but only some cases. Or you can even follow cases that don't involve your firm but have outcomes that may affect you. Like Notifications, you can share Alerts with others at your firm. This helps everyone stay on the same page and have access to information. The alert settings remain the same for anyone you share it with though, so if another user has different needs, they should make a separate alert. You can read our 
guide on creating case alerts here
. It goes over how to set them up step by step and has additional information on finding previous case documents as well.
Get the Most out of File & ServeXpress
File & Serve offers more than just eFiling and eService. Learn more about how to use our document management features, batch filing tools, automatic case alerts, and more by exploring our Knowledge Hub, or contact our support team with the link below.