Need to file with the District or Chancery Courts of Wyoming? If that is the case, you can eFile using the File & Serve application.  
Here we will go over four actions new users should take when getting started with Wyoming eFiling. These will help you both successfully get started with File & ServeXpress and get the most out of the application right away.   
Create Your Own Unique Account
Registering with File & ServeXpress is free, and individual accounts are available for attorneys and their staff members (different than federal court, where only attorneys can have accounts). On the File & Serve application, staff and attorney accounts can be connected under one organization. 
Using an existing account of someone at your firm is tempting, as you are likely working on some of the same cases. But it isn't a good idea for multiple reasons: 
Account sharing is a bad security practice

, especially considering how many people use the same password for multiple logins across different apps. 

 

Problems with Notification and Alert Settings

. With an individual account, you can ensure you get the notifications/alerts you need and pass on the ones you don't.

 

It can lead to inaccurate records.

Legal proceedings should have as accurate data trails as possible. Using individual accounts allows for all actions to be tied to specific staff members and attorneys instead of a generic attorney account. 

 
If you are the first member of your firm to create a File & ServeXpress account, you can create additional accounts at the same time for the rest of your firm. This is an easy way to get everyone up and running all at once. But you can also invite other staff members at any time under the preferences menu. 
There is no need to wait to register an account, even if your county is not live yet (specifically if you are an attorney). Registering early ensures you won't have account issues connecting you to your cases between File & ServeXpress and the greater Wyoming Court system allows you to receive eService through the application right now.   
Watch the eFiling Training Course Before Taking the eFiling Proficiency Exam
The Wyoming District and Chancery courts require all users to pass an "eFiling Proficiency Exam" before activating the account. Upon registration, you will receive an email with a link to the test. 
The test starts with acknowledging that you have attended a live training session or have watched a pre-recorded one. The training session includes all of the information needed to pass the eFiling proficiency exam. This training will include information on:  
The general structure of eFiling with the courts for Attorneys and Pro Se individuals.

 

Rules, procedures, and orders for the Chancery and District court. 

 

A live demonstration of an eFiling transaction on the File & Serve application.

 
 You will be thoroughly prepared to take the test if you watch the training and be prepared to actually eFile. While you can take the test as many times as needed, you will save a lot of time if you pass the first time.  
Understand the Different Service Options Available
Alongside eFiling, File & ServeXpress offers simultaneous eService (and U.S. Mail Service when appropriate) and independent eService. Here's a summary of both options:  
Simultaneous Service

: As you eFile a document with the court, you send the same document to any party in the case. You can either eServe others who have File & ServeXpress accounts or use U.S. Mail Service for those that don't. 

 

Independent eService

: You can serve documents without eFiling with the court, like Discovery documents. Just select one of the "Serve Only" Delivery Options on the "Review and Submit" page at the end of the transaction. 

 
But beyond just sending service, File & ServeXpress has a few features that verify proof of delivery and ensure you know your documents are getting where they need to go:  
The Transaction Report

. The transaction report is an official stamped summary of an eFiling/eService transaction. It includes information such as the documents sent, the clerk review status for each document, and a complete list of transaction recipients.

 
eService Read Receipts

. File & ServeXpress will let you know when a party receives the eService email and when they open served documents. This allows for complete transparency of the service process among all parties. 

 
So before getting started with eFiling on File & ServeXpress, familiarize yourself with the different service options and utilities available. You never know how soon you will need to use one.  
Set Up Notifications for You and Your Firm
Once you send out your first filing through File & ServeXpress, you won't want it to be a secret to the rest of your firm. You and others will need to know the status of the filing, and notifications ensure that everyone will.  
You can see the Notification settings in the "Preferences" menu on the "My Notification Options" page: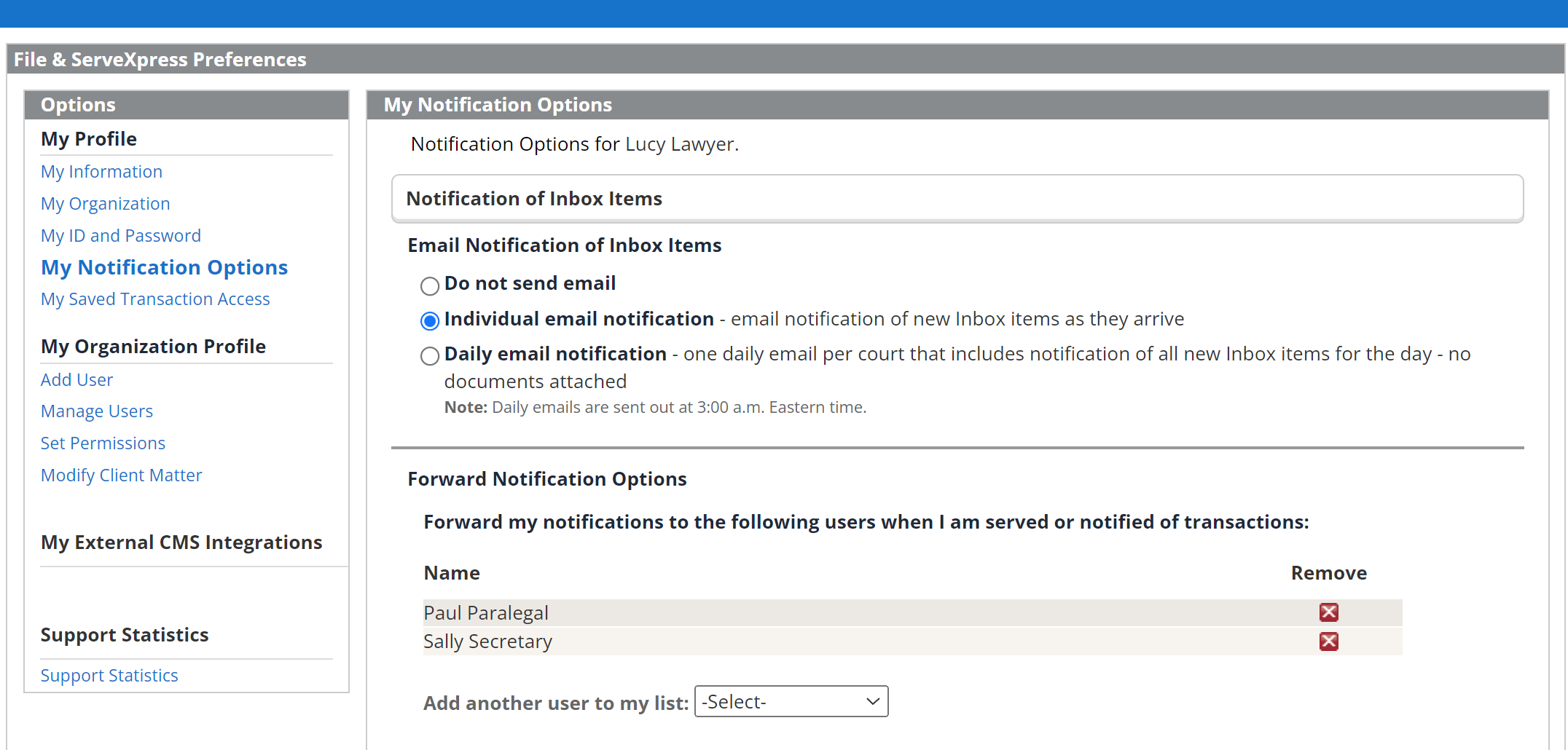 Here, you can choose to not receive notifications or choose between two different notification formats: 
Individual Email Notifications

: You receive one email per item with any specific documents attached. This is the best option for anyone directly responsible for sending, receiving, or managing case documents.

 
Daily Email Notification

: You receive one email per day with all items summarized, no attachments. This is a good option for those who are not directly responsible but desire to know case activity anyway. 

 
In addition to configuring your own notifications, you can also forward the notifications to other staff members in your organization. Attorneys should forward account notifications for their staff as soon as possible. This way, once case activity goes live, everyone receives the information they need (again, a great reason to make sure everyone has unique accounts). 
Get the Most out of File & ServeXpress
You can get more out of File & ServeXpress than just eFiling. We've helped Wyoming law firms serve, handle documents, and stay on top of their cases and would like to help you. To learn more about getting started, visit our knowledge hub for informative guides or contact our support team with the link below.